Brandi Carlile, June 21, 2010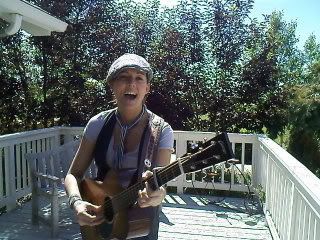 She opened up for Jewel this time, none of us are quite sure why. Jewel is Jewel, with her rich rodeo husband and glass shattering yodel. I'll admit it, back in the day she was genuine and amazing and pure, but if I hear her yodel one more time, or talk about her dream with Bob Dylan, I'm rushing the stage and NOT in a good way! Weren't there a lot of admiring kids in the audience? Helllooooo? Ewwww. The first minute of the custom "Boise, not BoyZEE" song was cute, but we wanted Brandi. Somewhere I have a TAPE of Jewel from a high school performance in Homer, Alaska. I'll have to find that bootleg someday. I miss that Jewel.
Brandi is why many of us were there, a beautiful day at the Idaho Botanical Garden. Tim and I arrived early for sound check, quickly harrassed by one local nazi security miniature who barked orders at us with her hands flown up in the air. Did I see her on Austin Powers? Dr. Evil's frau/plaything? No, that frau is friendlier, and has never offended my friends and I. I remember a great quote years ago from a friend, "you can tell a lot about people by the way they handle a position of power."

Tim was frightened and we eventually ignored the barking commands and stopped insisting we had a right to be there, and went about our business. Our winners wandered in to witness the sound check party. Sunshine and 80 degree weather did not stop us from getting complete goosebumps 20 seconds into her acapella song. Still amazing.
Brandi admitted to us that she did not care for how the people at Lilith Fair had handled things this time. She said she was tired of all the secrets, who is playing, what cities...and said they had really taken a lot of power away from the artists to do their own thing.
Inside the Botanical office, I asked if she would sing this particular song so I could record it. I'll admit, it was a completely selfish move and I song I needed for my current growth. She signed posters for me but I left them inside, and some of the security folks were too busy trying to get Brandi picks for teenage girls to help me get them from backstage. Sigh. I know Brandi will be back. At least she gave me...
THIS! :)
This site uses Facebook comments to make it easier for you to contribute. If you see a comment you would like to flag for spam or abuse, click the "x" in the upper right of it. By posting, you agree to our Terms of Use.