Cowboy Junkies, April 25, 2007
We thought for sure the Cowboy Junkies would be way too busy to stop by for an in-studio. Thankfully, we were wrong and they accepted our invitation. The band has toured and recorded for so many years, we know they really don't have to do this anymore.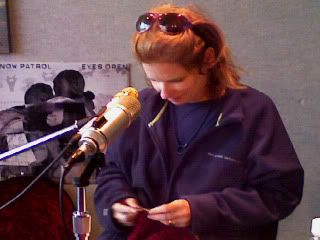 Margo seemed bored, honestly. She began knitting before the interview, says it's been an obsession for a few years and helps her relax before shows. She was working on a scarf.
When it came to performing, they did a stellar job in-studio. Cowboy Junkies "Blue Eyed Savior."
We were honored they gave us a couple of great acoustic tracks. Cowboy Junkies "Cutting Board Blues."