Matt Hires
Matt Hires, February 11, 2010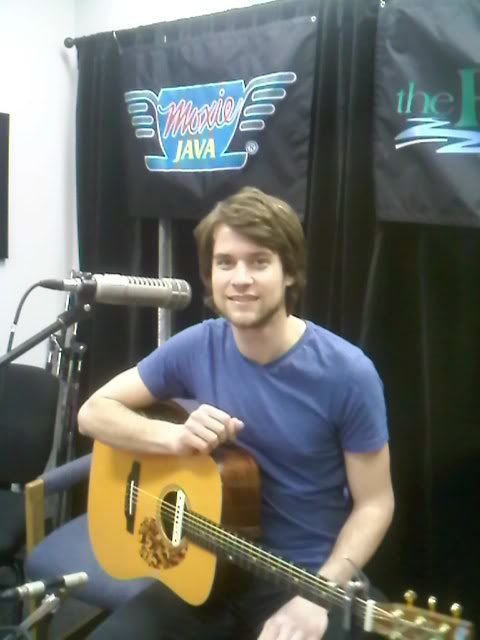 "It's so awkward when they do that," he whispered to his bandmates after I asked for this photo. He forgot about the microphones being on in my room as we got ready to sound check. You may think of Counting Crows when you hear his vocals.
Matt Hires seemed a little nervous, really wishing he'd had coffee before the interview, and tormented by the wonderful smell of Guido's pizza in the room that he should have eaten before we went on the air. "That pizza's killing me!" he said a couple of times.
This next song makes me think of tumbleweeds and western shootouts when it starts. Matt's a whistler. His father used to whistle around the house all the time. Matt's not bad, we all agreed that no one can whistle like Andrew Bird, though. (See videos below.) Tim says Andrew is "creepy cool." I couldn't agree more.
Matt's been on the road a while, but has moved up from using a rental car, to now sharing a van. He's touring with the guys from Tyrone Wells' band, plus the drummer from Kate Voegele.
Before being discovered from his MYSPACE site by an Atlantic Records A&R rep, (you heard right), Matt Hires had only held one job...that of a cabinet maker. He can't imagine doing anything other than music. His parents made him play piano at 8, but he hated it. He played bass at 12, since his brother played guitar and Matt wanted to do something different, but then he taught himself guitar at age 16, and has been writing songs ever since.
Matt is no stranger to Boise, he didn't remember being in our studios previously, though. It was nice that he did hang around and visit for a long time after the interview, answering questions while finally getting a couple slices of pie that he's smelled for the last hour! He's a great songwriter, and personally answers all comments and posts on Twitter, Facebook, and other social networking sites. If you're a fan, let him know!
This site uses Facebook comments to make it easier for you to contribute. If you see a comment you would like to flag for spam or abuse, click the "x" in the upper right of it. By posting, you agree to our Terms of Use.