Shook Twins, 2014
We knew The Shook Twins were going to be fun when we saw their stage plot!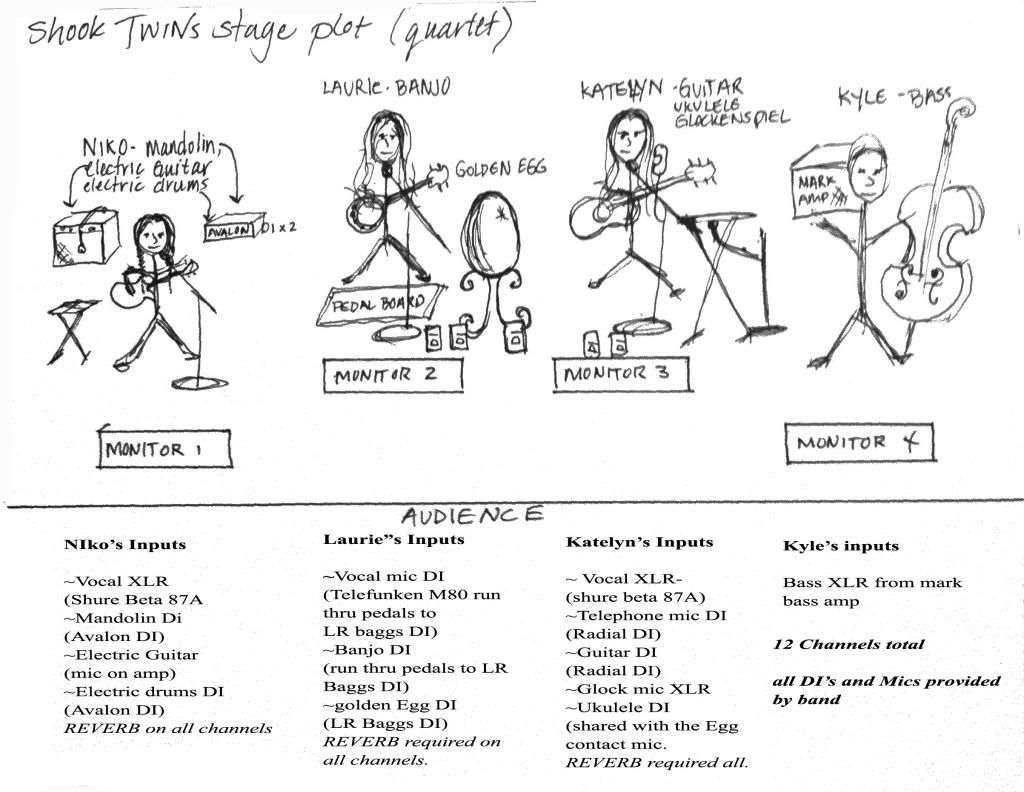 If you've been in Boise any length of time, you have maybe caught this band at BSU, Sockeye, or some other local venue. These shows have usually been Standing Room Only, so was the VAC. When I heard The Shook Twins were having a new album and show, I asked Tim if we could get them in for a session. My wishes came true, here's some music from them!

The Shook Twins got started in Virginia, but also have strong Idaho roots in Sandpoint. They make their homes in Portland, Oregon now. When not at home, you can find them in this lovely refurbished bus!
Awesome photos by Carrie Hoff
Formerly known as "Morning Ritual Band," The Shook Twins are positive, fun, and have a great sense of humor. They write songs about friends, gas stations, and garage sales. They say they are "Mediocre Multi-Instrumentalists," but we saw nothing mediocre about them.
On the live stage, they use this great telephone microphone I've always been so curious about. They searched for info on a "DIY Telephone Microphone," and got just the effect they were looking for. It cost around $20!
The Shook Twins love things like freedom, and friends being with friends. On a day of "Too many cooks…" I am grateful for the great help given by Carrie Hoff on photos and delegation, and Steve Taylor for finding a place to set up the camera. They are not just listeners, but friends who give endless passion and validation for our live sessions. It was just the kind of support needed today. It's nice to have a few people around that believe in you. This is a great song for friends, such as that!
Next session is Monday at noon, with Augustana in the Blue Moon Listener Lounge!
This site uses Facebook comments to make it easier for you to contribute. If you see a comment you would like to flag for spam or abuse, click the "x" in the upper right of it. By posting, you agree to our Terms of Use.