Lucius Live at The Record Exchange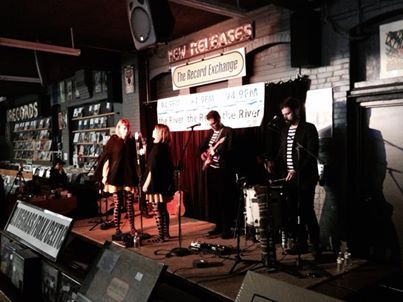 In the 2013 Silversound Music Video Film Festival + Band Battle, the official video for the song above won the award for "Best Animation."
We had an amazing Treefort Music Festival warmup with the Brooklyn group Lucius. During their travels this morning, they encountered a big rock slide in Oregon. They were a bit delayed starting, but not bad. "Why does everyone know about the rock slide?" I heard a band member ask. "They were talking about it on the radio," I heard a listener reply.
These girls met while attending the Berklee School of Music. This below is their single from the album "Wildewoman."
As always, kids watched and had a great time. We were also joined by smiling faces of our friends at Community Radio. These in-store performances are treasures that bring everyone together.
Lucius is chosen today as "Band of the Day" by The Guardian. Read about it here!
They left us with a nice Beatles cover. This is a band to keep your eyes on, and the girls smelled real pretty!
This site uses Facebook comments to make it easier for you to contribute. If you see a comment you would like to flag for spam or abuse, click the "x" in the upper right of it. By posting, you agree to our Terms of Use.