Tristan Prettyman, 2012
TRISTAN PRETTYMAN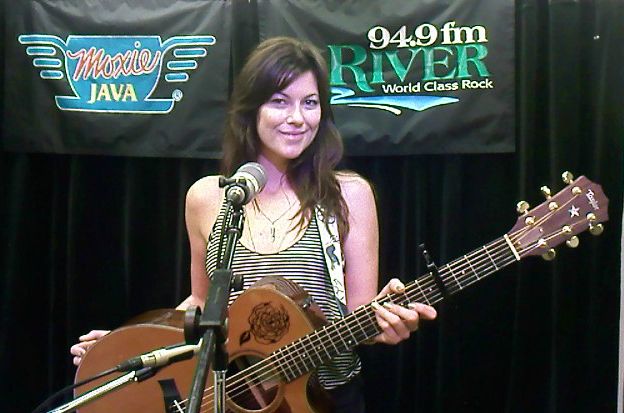 Although her show in town was the night before, Tristan stuck around to come visit us again in-studio. My vacation was scheduled weeks ago, but I wanted to return a bit earlier to see her again. It was so worth it. She asked for some tea, joking that it would be fine if we had no Maker's Mark! One of our tech helpers, Treva, was really embarrassed seeing Tristan today. She works as a security person at the venue, and had tried to keep Tristan from going backstage last night. "Excuse me ma'am, you can't go in there." Tristan proved her identity, and it was funny the two met face-to-face again today. Tristan was a great sport about it.
This is her new single. Tristan wrote it in 30 minutes in her living room, with Kevin Griffin from Better Than Ezra. "We wrote it, and then got a taco. There's a tiger in my music video!"
It's been 8 years now Tristan has been signed to Capitol/EMI records. This new album she says, has her heart "stamped on it." This label seems to show her great respect, they told her "Dream big, there's no ceiling." (Can you imagine being told that at your work? Oh, the things we could do!)
Tristan is fresh out of a breakup with pop singer Jason Mraz, and has taken this experience and pain, and created some very honest and raw songwriting. She said an astrologist told her they are karmically connected, but not supposed to stay together. She mentioned she is a Gemini, and also being very intuitive. When choosing producers, she said the name Greg Wells kept coming up and she contacted him. She said, "You're gonna do my record." He told her that had not happened before, an artist contacting him and saying what would happen. This Grammy-winning producer has worked with Adele, Katy Perry, Colbie Caillat, Otep, One Republic, and many other artists. Tristan said, "It's usually a good sign to cry and have a meltdown when I'm doing an album." However, when that happened on this album, Greg Wells did not hold her hand. He said she was welcome to go back and use the producer from her demo instead of him if she wanted. He was not putting up with any of it! She seemed to really respect him, he told her she has to start believing in herself.
Tristen watches as the Universe threw her some curveballs the last couple of years. She had taken a year and a half off, when she started singing, her voice became gritty and polyps were discovered on her throat. She'd had no official vocal training, sang for 7 years straight, and never had a problem.
After the vocal rehab and breakup, Tristan was feeling very disconnected. "You put your walls up when you feel there is no safe place to crash." She wrote more music during the down-time, and tried dating again. When it was time to record these tunes in the studio, all the emotions resurfaced and she realized she was not ready to date yet. She says how hard it was to hear that not only was her relationship not going to work, but that her ex also said he didn't like her music. Ouch. At this point, Tim offered to give a wedgie to Mr. "I'm Yours," next time he wanders through town.
One thing most people don't get to see iis the back of someone's guitar. It's usually pretty personal, and just for the eyes of the artist. Tristan and her record rep Lisa, were kind enough to let me snag this photo. The letters caught my eye when she took the guitar off. It reads, "When I look at you I squint, you are that beautiful." That's a lyric from Ani DiFranco's tune, "Slide."
After doing this next song, there was hardly a dry eye in the house. We're thankful for such a moving performance, after which, she needed a tissue for herself. September 25th is the release date for the album "Cedar and Gold." Tristan loves Boise, says it feels "rooted and grounded." We wish Tristan much love and healing, and will hope for a quick return to our town.
Something special happened to Tristan while in Boise. Her pain is already helping others heal. Read about it here on her blog.
This site uses Facebook comments to make it easier for you to contribute. If you see a comment you would like to flag for spam or abuse, click the "x" in the upper right of it. By posting, you agree to our Terms of Use.