Tyrone Wells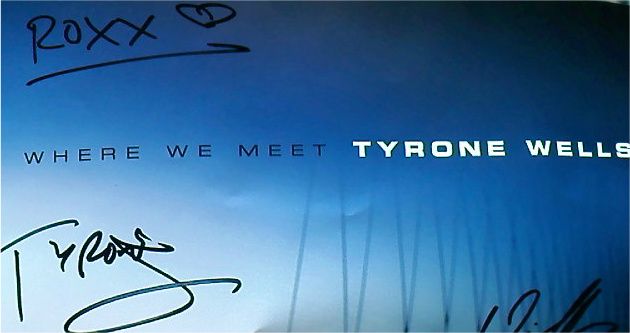 Tyrone Wells and his band seemed in good spirits, even though a bus tire had blown out earlier in Burley. Thanks to a nice guy named "Tyler," the band made it in town in time for our session. They're getting quite used to mechanical problems, and earlier in the tour lost 2 tires on the same side of the bus. He said it was a scary sound. "We were afraid the driver was sleeping, and the bus was driving through the countryside. " Last time in Boise, River fan "John the Welder," helped fix the band's trailer while they did their soundcheck at the venue. We have the best, helpful listeners!
When asked what question he least wanted to be ask, they answered, "What kind of music do you do?" Tyrone said, "Trying to describe your music with words, is like trying to describe a painting with dancing."
Tyrone Wells has family in town, and we look forward to each visit to our station. Both Rocky and Tim commented to me what a pleasure it is to work with this group. No egos, no tone-deaf stage manager telling us how to mix things, just people with an incredible passion for music. Since his last visit, Tyrone has both a new album, and new baby girl. He doesn't recommend for other people do those two things at once, though. He has written over 80 songs in 2 years, and is already preparing for another EP release.
While some friends of mine were crushed out on a couple members of the band, one friend was sure she recognized drummer Mark Chipello , and wondered if he was in another band. She realized she had been watching some of his drum lessons on Youtube. Today I stopped and made some serious eye contact while chatting with him, and I must say he has some pretty amazing and beautiful eyes! Mark always gives us a reason to smile. I posted his OK GO video imitation on the last Tyrone blog. THIS time, let's watch Mark shake his booty as he's "Bringin' sexy back." You're welcome Mark, and I think I have a couple friends wanting you as baby daddy!
We suggested doing something fun next time Tyrone visits, Tim suggested bowling. Tyrone says, "I'm a GREAT bowler." (What you don't hear or see on the radio, he simultaneously shakes his head "NO.") Tyrone's music is big enough now, he's not exactly sure who updates his website…but he has not forgotten about us. He says he loves the River, because we were the first substantial station to support this next song below. Who wouldn't? It's nice to turn off the news and hear something positive, and always nice to see a smile from Tyrone Wells.
This site uses Facebook comments to make it easier for you to contribute. If you see a comment you would like to flag for spam or abuse, click the "x" in the upper right of it. By posting, you agree to our Terms of Use.