Toni Childs
WHO could resist a face like this?
This is "baby G," although some people are trying to convince Toni Childs to change the name to "Boise." One look at those big eyelashes tells you why Toni would like this giraffe to be part of her home on Kauai, Hawaii. Her sister works at the Bronx zoo, and might have connections to get this beautiful baby to her property.
This was one busy day, we were all scrambling to run the required EAS emergency test at noon. This was the first time tests were done across the nation simultaneously, at all radio and tv stations. For engineering, it is a very big deal and involves tons of computers, cords, screens, and monitors. Rocky was busy hooking up needed wires for this AND helping set up for the in-studio. We opened the engineering door to hear a cacophony of apocalyptic sounds, like white noise, beeps, tones, voices sounding like an AM radio not quite tuned in…just a few seconds of all that created wide eyes and enormous stress for Tim and I. We were happy to close that door, and move on to the performance.
The acoustic performance turned out to be a full band with stacks of amps, drum parts, keyboards, electric bass…and as usual, Rocky adapted and made things work. The conference room, er, "Moxie Java Listener Lounge," was stacked top to bottom, front to back, with equipment, mics, and winners. After the EAS test, we did a quick sound check with Toni Childs and her band, I was only hearing 10% of one of the guitar mics so we traded it out just in time.
"Why doesn't Toni have a mic stand?," I asked. "Because she's requested to just hold it," Rocky said. So when the door closed and we went live, and I saw Toni put the mic in her lap, my eyes went wide and to myself I said, "WHOA WHOA WHOA." Toni sat down by the ambient mic on the table, we use this one for crowd laughter and clapping, and it's UBER sensitive. I turned the hand mic off and turned the table mic up. It worked, but when the table was hit to make a point, the speakers went "POP!" Oh well, no way to let anyone know, so we rolled with it and turned the other mic up for songs.
Toni Childs is taking a break from her new album, "Citizens of the Planet," to do some touring. She plays Pocatello, Ketchum, and a show in Boise this weekend. Listen to her strong pipes on this song!
Port of Subs fed us all lunch, and Moxie Java had coffee and cookies. They always make Rocky a special cookie.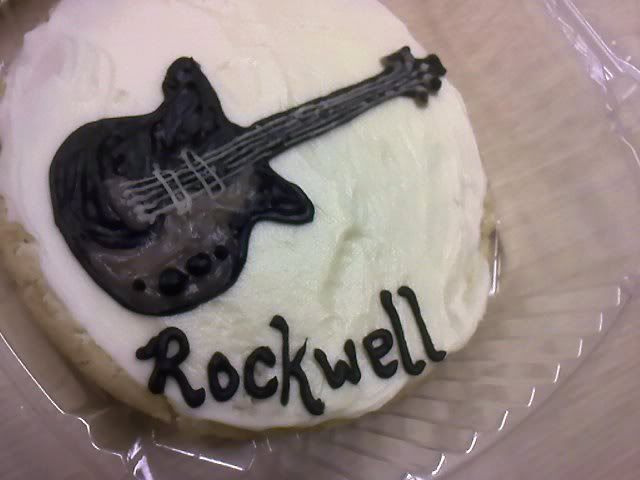 Ken, bless his heart, said, "hey, where's Rochelle's cookie? Why doesn't she ever get one? She's here all the time too!" I am promised a custom cookie at next Wednesday's "Graffiti 6" session at noon!
Toni Childs is loving life, creating amazing realities for herself, and still has such a unique and powerful voice. After the interview, she told us that she feels like a little kid in pain, that needs an outlet. She feels like an empath, and feels it in her whole body. She feels like she IS an acupressure point, and she sings to express it.
Speaking of Rocky…
Please take time to visit the Idaho Botanical Garden next month during Winter Garden aglow. Rocky has a reeeeealllly close connection to Kris Kringle, so make sure the kids get to go. Santa has that gig all month, especially near the weekends, and except of course, Christmas Eve! Rocky says that when the kids pull on his beard and realize it's real, their eyes get REAL big! Rocky needs some fun, he's been through a lot lately.
This site uses Facebook comments to make it easier for you to contribute. If you see a comment you would like to flag for spam or abuse, click the "x" in the upper right of it. By posting, you agree to our Terms of Use.