The Preservation Hall Jazz Band
That's a song originally by Professor Longhair, some 40's jazz. The Preservation Hall Jazz Band brought the Mardi Gras to Boise. This legendary New Orleans jazz band stopped in to play some songs the day before their collaboration with the Trey McIntire Project, at the Morrison Center.
When Tim started helping the band carry in their equipment, he looked at me with huge eyes. We had set up a keyboard, but they chose to not use it. One by one, the room filled with musicians who carried a million stories on their faces. We saw banjo, clarinet, horns, drums, and the very festive tuba. Somehow we fit them all in with our audience of listeners.
Before the performance, Rocky had set the room up and tech-helper Kirstin played "Heart and Soul" on the keyboards. Rocky asked, "Do they still make that song?" and giggled. He was even more thrilled that the Moxie Java people had brought him this custom cookie! Keep reading and you'll see the photo.
Below is a song that Ben and Charlie wrote for the ballet performance. Note the sound guy setting the microphone up aimed at the freaking banjo, ugh! No amount of EQ notching could really balance this right, and notice how he sneaks away down the hall after this? Here comes trouble…
So, it finally happened. The day I'd dreaded, when a sound guy went too far and crossed some boundaries in our recording studio, happened this day. The Preservation Hall Jazz Band?! No way. We'd had arrogant people, high people, sucky people, metal bands, yet never had a sound guy cross the line and get in my face while mixing.
Until NOW.
He wanted to hear the mix before we were on the air. Rocky explained that he could, but then I like to mix it live and alone so there aren't distractions. Sound dude acted like he understood, then proceeded to constantly pop in to tell me what to adjust.
The first song, bring the snare down. I bit my lip and obliged.
The second song, this guy was all up in my SPACE. I mean, he was literally breathing down my neck. At one point I tried to use the mouse on Pro Tools, and my foot tripped over his. That is way too freaking close. Then, I actually feel his breath on my neck, and smell the BEER on his breath! The last straw? He actually touches our mixer to adjust something, and starts talking during the song. DUDE. SERIOUSLY?! He asks if they can get copies of the music. It was at this point I lost it, kind of, in a professional way? I said "NOBODY talks to me while I'm mixing a live song on the air, I don't even let staff do that! Nobody who isn't staff is supposed to be in here, or touching our equipment, I'm NOT a fan!" He said "my apologies." I just kept concentrating until he left, and finally on the 3rd song, which is the second video above, I mixed it the way I wanted. Neither of us said goodbye to each other.
Let me make something clear here, if someone is gonna be drunk at the mixer, it's gonna be ME! Of course, I am kidding. Sort of. Sound guys on the road don't typically have many highs left in their hearing range, either. I can't imagine having such disrespect with someone else's equipment, but that's just me.
My pal and BSU Music Professor/Musician Joe Baldassarre told me something randomly today at lunch. "You can have the best players and performers but the BEST musician should be behind the board."
Amen.
The band was awesome, the Dixieland jazz soared through the building and even made the walls happy. Check out Paolo Nutini's Work at the Preservation Hall.
It was a great day of music overall, and here's Rocky's cookie!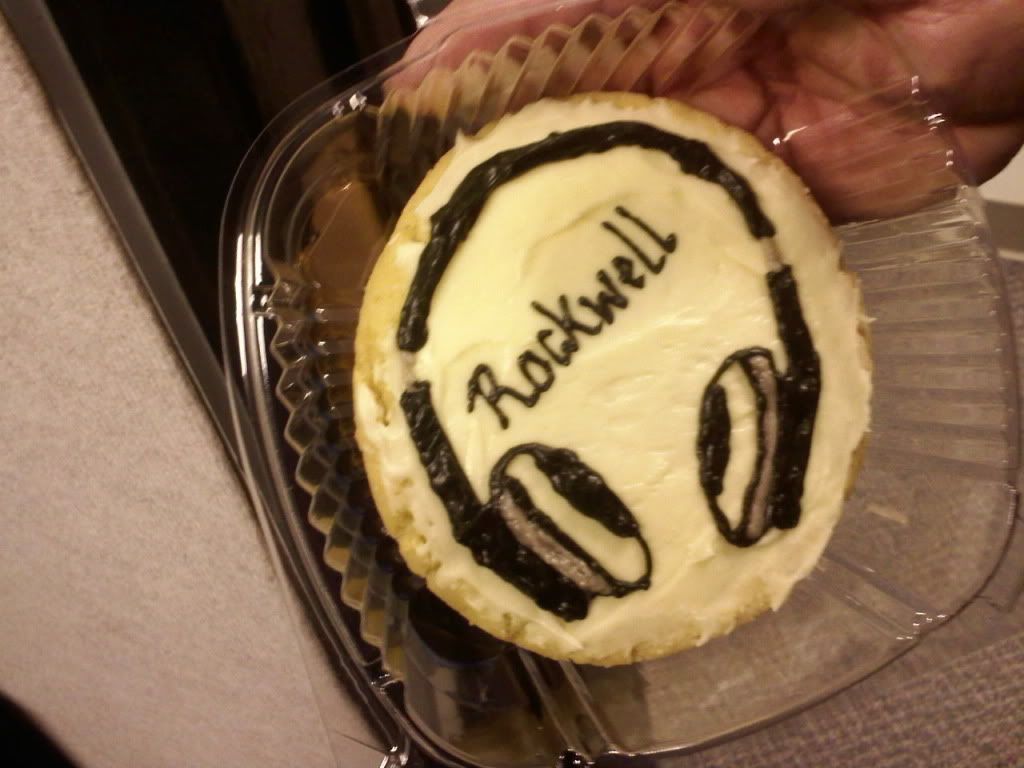 P.S., the Preservation Hall Jazz Band Technical Rider blog has been removed, at the request of their management.
This site uses Facebook comments to make it easier for you to contribute. If you see a comment you would like to flag for spam or abuse, click the "x" in the upper right of it. By posting, you agree to our Terms of Use.