Alpha Rev
Why I am smiling...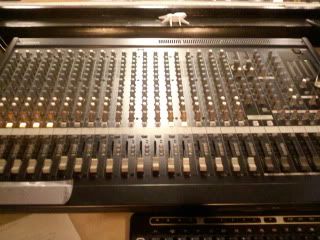 I love buttons. Knobs. Lights. Faders. EQ. Years ago I had the radio mixer of dreams, a 16 channel Mackie. It went away for some reason, described as "all the buttons are freaking the dj's out as being too confusing, so we removed it and put a simple board in." My answer (after screaming) was, "they don't have to touch more than 3 of those buttons, they can ignore the rest!" For years, our mixes were with this dumbed-down mono mixer. We got by with it, but thanks to the Doobie Brothers (?), my prayers were answered with a new board, microphones, and various other goodies I thought never in our budget. Once again, I can mix in stereo. It was as if years of recording was ignored, until the Doobies hit our stage and needed more channels. All of a sudden, management noticed. We've had Patty Griffin, Jason Mraz, Scott Weiland...but it was the Doobies who got everyone's attention?! Whaaaa? Whatever, I'll take it. When the mixer arrived, I did really hug it before it left the box. Thank you, Doobies (?) and thank you, so very many managers especially in engineering, for realizing this was a worthy purchase :)
ALPHA REV
Singer Casey McPherson and his 2 friends flew to Boise JUST to play music in our listener lounge! We all agreed, these were some of the sweetest performers we have worked with in quite some time. No demands. No ego. They are grateful. We love them.
The violin player and cellist have been friends since 7th grade, and work very tightly together providing Casey with a strong string section.
This song is the new single from their latest album. Casey says it's a song about self-hatred. "We limit our capabilities and see others as a piece of art, but not us."
After the interview, I asked about the official video. I never know if the record labels have their own ideas about what the song should mean and what the video portrays. Casey seemed real excited that I asked about it, and said it was a collaboration of meanings with the directors and himself. He really looks just like this, eyes intense and tormented. Here is the official video.
"You cannot write to please someone else with your music, as gay and psychological as that sounds."
"Gay?" I know I had a puzzled look when he said that. Bands performing on the X use that phrase, but Alpha Rev? It was so out of character. I don't really hear what he says next, but imagine his record guy pulling him aside after the interview and correcting him. The thing is, I don't think this guy has an offensive bone in his body. I choose to let it go. What do you think?
This song is about going to NYC, if you can ever get enough money to hang out there. On this trip, he refocused on what he values in his life. He mentions how he can't believe how many people are there, and so close, but they have no interaction at all with each other. The cello growls when entering this song, and the string swells are beautiful and overwhelming live. My studio is cranked, and I am alone to mix this, and so thankful for the beauty of this day. This is some great songwriting.
When asked if he ever argues with the record label about final production, the other band members excitedly jump in for the singer and shout, "yes!" Casey admits it's true, and says one time he fought so hard about having his way, he almost walked out and went to Costa Rica. "You do that a lot more when you're 20, burning bridges."
Not only featured in "17" magazine, Alpha Rev is one of VH1's 'You Oughta Know' Artist on the Rise.
This site uses Facebook comments to make it easier for you to contribute. If you see a comment you would like to flag for spam or abuse, click the "x" in the upper right of it. By posting, you agree to our Terms of Use.