KT Tunstall
KT recorded this song after having visited the Antarctic.
KT Tunstall played solo, but arrived with a tech crew and huge crate of pedals and effects. They arrived 2 hours before their performance, plugging in dozens of cords and doing soundcheck.
"Oz" and I worked together to get the sound they wanted, which was far from unplugged and was very loud for an in-studio. They insisted on monitors, and full reverb in the mix, which we usually add in the remix.
KT seemed happy to be here, also hungry for eggs, so we sent them to Goldy's after the interview.
I am still not sure how an actual "chick fight" happened at KT's show at the Knitting Factory. She actually stopped mid-song, to say "you ladies need to sort that sh*t out." Everyone annoyed, the girls were removed to speak to authorities outside, and the show went on. I hope KT doesn't hold this idiotic incident against us. Watching a jaw punch while you're playing a ballad, has got to be very distracting.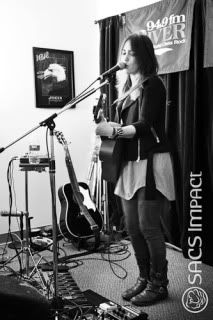 Sarah A. Curtis-Schaeffer
"SAC" has been a friend of mine for years, supporting all aspects of my work and music relationships. She has taken some amazing photos for us lately, including several of KT Tunstall .
She is a kind and generous soul, and is willing to donate a rad photo of KT Tunstall to our "Concert For Cause" this year!
Sarah earned her BFA in Graphic Design from Boise State University, and she received a Graduate Certificate from the Rocky Mountain School of Photography. Music has
always been a huge part of Sarah's life. She not only enjoys listening, dancing and feeling the music, but also loves to photograph musicians making their music. She hopes to continue to expand her eye and bring the musical tunes out through her photography for all to see.
Sarah's website is currently under construction but will be launching soon:
See more of her work on her blog:
KT's newest album "Tiger Suit," goes in a different direction from her past releases. She said, "On your first album, no one knows who you are. On your second album, YOU don't know who you are." She realized she had to do music not for her fans, labels, or peers…but instead has to play music to please herself.
She says a favorite night involves "campfires and whiskey." She speaks of an amazing home studio, with solar power.
Her single "Fade Like a Shadow," she likes the concept of, because it combines a very dark subject with conflicting happy music underneath. She says it's about a very evil person she knew, so dark that she wore a t-shirt with their name on it. (I guess to keep them close, but far enough away?) She says this song was actually "kind of an exorcism."
It was a busy and delightful day, Oz let me do my job for the most part and watched from directly behind me. I was nervous, but ultimately thankful to get video of the above song, with only 2 minutes of time left on the camera! In studio and on stage, KT gives a really high energy performance and great mixture of loops, ballads, and dance tunes. She let us get close to her 2-stringed Sharpie-customized Gretsch guitar, both strings tuned the same. Her loops and beats are still running around in my head, and we can't wait to hear what she does next.
Tech Rider
(Here is an example of the sound requests we get from bands before they appear in-studio. Sometimes bands send professional stage requests, not realizing it is an unplugged conference room performance. We try to come up with as much as we can.)
RADIO SOUND SPECIFICATION
MIXER
Monitoring
Ideally a 1pair of Bi-amped wedges
Amplifiers and crossovers to drive above wedges.
Preferred model Claire brothers 12am
All stands, signal , speaker and main cable to be provided by you
If you cannot provide or are uncertain about anything above
please call
We require a professional mixing console with 4 bands of
parametric eq per channel with sufficient number of channels to
split each input for monitor and Broadcast and 4 auxiliary
outputs – 1 monitor send and 3 fx sends. A 31 band graphic
should be inserted on the monitor send. Other outboard gear
required:- 3 x Compressors (dbx, Klark teknik or Summit) 1 x good
quality reverb.
This site uses Facebook comments to make it easier for you to contribute. If you see a comment you would like to flag for spam or abuse, click the "x" in the upper right of it. By posting, you agree to our Terms of Use.