Ingrid Michaelson-revised 6 months later...
(Parts of this November blog have been removed at the artist's request today. Yep. Other than a technical rider asked to be made private, this has never happened before. I guess it's time to add a disclaimer to the blog. These are just opinions, and I only write about people I think are worth writing about.)
Let me preface that I went to a funeral today. A friend's dad, we shared a lot of ice cream, movies, and sushi together. Funerals always remind me to appreciate life, so I want you to know I appreciate any who read or enjoy this blog, or the music and stories we share. They played "All I Wanna Do, Is Have Some Fun" by Sheryl Crow at the service. It was an interesting twist to the sadness, but great reminder to be present and appreciate friends and all we have. I have a tremendous appreciation for this thing called "my job."
Our in-studios are very limited, it gives me great pleasure to share experiences and videos with you in case you couldn't make it. Please share them with anyone else you thing might enjoy them.
Ingrid meets Lady Gaga. She didn't add this part at the concert, it was a special treat for her in-studio! I wondered when remixing this song, what is that click at the beginning of the song? Should I notch it out? Watching the video, you'll see Ingrid stomp hard on her tuning pedal!
<THE PARAGRAPH PREVIOUSLY POSTED HERE HAS BEEN REMOVED AT THE REQUEST OF INGRID AND HER MANAGEMENT.>
Allie Moss is amazing, a great singer/songwriter you should look into. She has been Ingrid's shadow, friend, butt of jokes, cohort, and angelic backup singer and guitarist for years. She really felt sick. My friend 'Nette Shaff took this amazing photo, which I think captures so much about Allie. This is beautiful. Allie in our conference room, during sound check.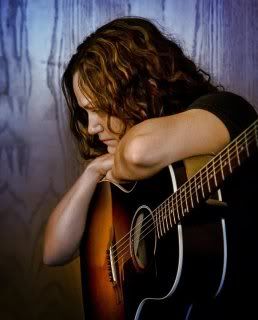 Thanks to 'Nette for sharing this, to see more of her work, please check out graphicphoto.vpweb.com/. You will see her work on calendars and greeting cards all over town, many with shots of adorable dogs.
Bess Rogers accompanied Ingrid and Allie in-studio. Bess is amazing, seems a little freaked out that we are just a few feet away from her staring at her through the glass. She seemed a little tense about her being micrphone being set up too low, we thought she was going to sit. I notice right away that she's adding some very tasty guitar accents and 3rd part harmony to their songs for us. Bess has toured all summer with Ingrid, and has been busy with a new EP she released September 21st. She is now on tour.
When asked if Ingrid was still having fun on the road, she pretty much said that she's doing what she has to do. She seemed exhausted, and mentioned how she'd just like to have a garden, or be able to cook. <MORE EDITS, AS REQUESTED.>
PARACHUTE...THE NEW SINGLE
Ingrid wrote this tune and kind of filed it away. A UK artist showed some interest in covering it, so her label encouraged her to get it out, change a few things, add a verse, and do a new version. Ingrid jokes a little about being a control freak, saying her label took it out of her hands, made some changes, and she approved them but it probably wouldn't have had the same sound if she had done it all. Some veteran fans of Ingrid have challenged her new and different sounds and looks recently. She compared this criticism to being a parent. "Whaddya want, your 4 year old to stay 4 years old FOREVER? That just creeeeeepyyyyy," she sings. Decide for yourself.
British pop star/model/actress/fashion icon Cheryl Cole has covered this song, the 2nd one below, and it is taking the UK by storm.
Okay, ready for 3 VERSIONS of this song?
This one's COOL...
This one's weird...
This one's weirder!
We hope she returns soon. That is all.
This site uses Facebook comments to make it easier for you to contribute. If you see a comment you would like to flag for spam or abuse, click the "x" in the upper right of it. By posting, you agree to our Terms of Use.